The Fight Against Childhood Cancer Comes to Arizona and New Mexico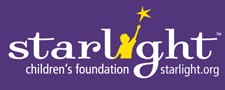 Northwestern Mutual – Southwest is a proud participant in Northwestern Mutual's philanthropic program to accelerate the search for a cure to childhood cancer and to provide support to kids and families facing the daily struggles of this disease.
Partnering with Starlight Children's Foundation, Northwestern Mutual – Southwest, in conjunction with the Northwestern Mutual Foundation, is donating Fun Center mobile entertainment units to four hospitals in the southwest: Banner Thunderbird Medical Center in Glendale, Arizona; Phoenix Children's Hospital; University of New Mexico Children's Hospital in Albuquerque; and Diamond Children's Medical Center in Tucson. Whether hospitalized children are awaiting surgery or sitting restlessly during treatment, Fun Centers help them cope by providing endless hours of fun and distraction.
Click here to see pictures from the Glendale, AZ event.
---
It's About Opportunity
Opportunity for personal development. Opportunity for growth. Opportunity for success. Northwestern Mutual in Albuquerque, New Mexico offers opportunity - for both our financial representatives and their clients.
As part of the Network, financial representatives are given the opportunity to succeed as independent business owners. They are highly trained and have the resources of the entire Network behind them to help ensure their success.
Our clients are given the opportunity to work with someone in the local Albuquerque, New Mexico community who has the knowledge and skills necessary to develop solid personalized solutions. Our financial representatives offer innovative solutions that help clients minimize financial risk and achieve financial security over the long term.
Steve Forbes and John Schlifske on
"The Power of a Game Plan"
Northwestern Mutual hosted a speaker series with Steve Forbes, chairman and editor-in-chief of Forbes Media and John Schlifske, Northwestern Mutual chairman and CEO. Forbes and Schlifske shared their perspectives on the economy, the financial markets, and the importance of having a sound financial game plan in place regardless of market conditions. The event was part of a three-city tour and saw over 1,000 attendees.